Our tattoo removal process is safer and more effective than laser tattoo removal.
With excellent results at removing all tattoo pigment colours, safely and effectively.
Contact us
Get in touch today to see how we can help remove your scar in a safe and effective way.
What our clients say
I found Candice whilst searching for tattoo removal online, and I am pleased I did my research and found Candice. Candice explained the tattoo removal process very well and gave her honest assessment of what was achievable. After only one session, my tattoo was almost gone. However, I went back for another two sessions to remove it entirely. I am delighted with the results.

Mohammed, Dubai
Before visiting Candice, I had more than a few laser tattoo removal sessions for my tattoo on my shoulder, and my tattoo was still visible. I found Candice very skilled and the removal process far more comfortable than laser. I would recommend Candice for tattoo removal, and I am thrilled with the results.

Sarah, Abu Dhabi
Why our system is
BETTER
than Laser Removal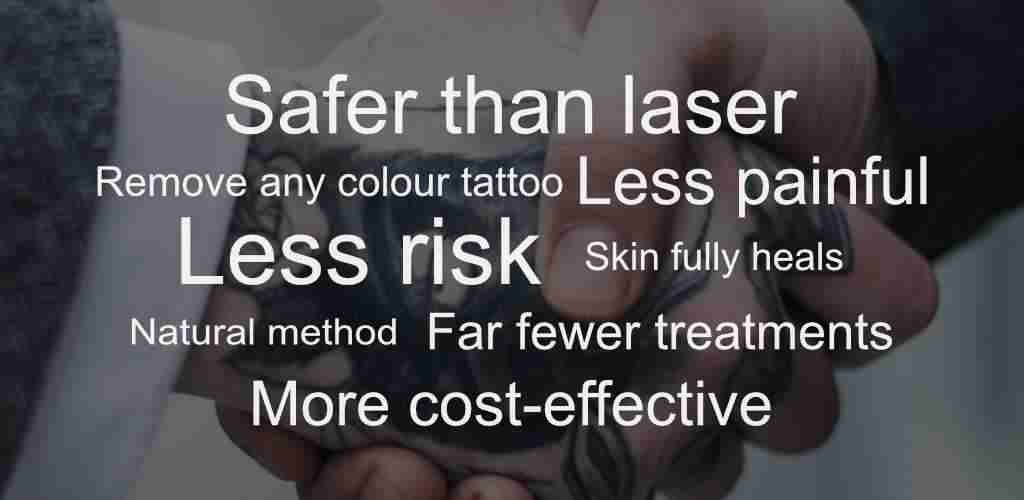 Safer than laser removals
Our tattoo removal process draws pigment up and out of the skin. Laser tattoo removal blasts the pigment and can push some pigment deeper into the skin.
Natural method
We use micropigmentation needles to insert a unique removals cream that attaches itself to the tattoo pigment. The cream then combines with the pigment and the mixture of pigment and cream is expelled naturally from the skin.
Less risk
If the aftercare instructions are followed then there is almost no risk of scarring. Compared to laser which has a 75% risk of scarring.
Less painful
Our removes pigment in a natural way and does not burn the skin like laser removal.
Remove any colour tattoo
Our removals cream is effective on all tattoo colours including blacks, reds and greens.
Skin fully heals
Once healed the area has the appearance of new skin that still tans and hair growth is unchanged.
Far fewer treatments
A black ink tattoo is usually removed in as little as 2 to 3 treatment sessions.
More cost-effective
As this is the best tattoo removals system on the market the cost per session is higher but fewer sessions are required. Laser removal is cheaper per session but we see clients who have had 20+ laser removal sessions and still the pigment is visible.
Safer and superior results compared to Laser Removals
Industry expert Candice Watson
Performing treatments for over 30 years
Candice Watson – 30+ years of experience
Candice Watson is one of the best practitioners in the world of micropigmentation offering industry-leading procedures and training in Dubai and the Middle East.
Candice Watson is a respected tutor and practitioner of micropigmentation techniques with over 30 years of experience performing treatments and teaching micropigmentation.
Candice performs all procedures personally from LCAS medical clinic in Dubai Healthcare City.
UAE Business Awards Winner
Multiple Awards Winner
We are proud to announce Exclusive Aesthetic are UAE Business Award winners for two consecutive years.
Our UAE awards include Best Specialist, Best Trainers and Best Scalp.
Useful information
Ultimate Micropigmentation Services
Dubai appointments
Appointments are available Sunday to Thursday 9 am to 6 pm at the London Centre for Aesthetic Surgery (LCAS), Healthcare City, Dubai, United Arab Emirates. For UK Harley Street appointments please contact us.
Licensing
All Dubai procedures are performed under the licence of the London Centre for Aesthetic Surgery (LCAS), Healthcare City, Dubai, United Arab Emirates and conform to the highest medical standards.
Training courses
Candice now offers several micropigmentation training courses in Dubai including Semi Permanent Makeup, Eyebrow Microblading, Medical Micropigmentation and Hair & Scalp Micropigmentation.
Training courses are held at various locations in Dubai and the Middle East. Certification is through our sister company Exclusive Aesthetics Technical and Occupational Skills Training.